16 Things we don't need!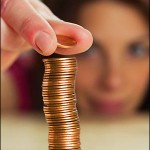 Ads constantly promote items we can't live without. Resist!
Every waking hour, consumers are bombarded with deals. Online and on TV, in
magazines and on the sides of buses, ads show us objects we can't possibly live
without.
Except that we usually can. How do you suppose people managed before greeting
card companies made birthday cards "from the cat" or "from me and the dog"?
Before applesauce came in tubes? Before we started thinking our blankets needed
sleeves?
This list of 16 things you don't need is by no means exhaustive, but it's a
start.
1. Bottled water – "It's more expensive than gasoline . . . $6.40 per gallon
($1.83 CAD per litre) for a liquid I can get for free at home," writes Karla
Bowsher at Money Talks News. If you live where the water tastes weird, get
yourself a filter. Bowsher's article lists top-rated models that start at under
$20.
2. Paper plates – For a picnic in the park, maybe. But why not get a set of
unbreakable dishes for picnics, barbecues and visits from the grandbabies?
That's certainly greener and ultimately cheaper if you shop thrift stores and
yard sales.
3. Paper napkins -. Notice a pattern here? Reusable beats disposable any time. I
got six cloth napkins for a quarter at a rummage sale; check post-holiday
clearance sales, too. Or buy a fabric remnant and sew your own.
4. Paper cups in the bathroom – If you're that concerned about germs, carry the
cup to the kitchen each morning and toss it in the dishwasher. Note: Some people
"cup" their palms and bring water to their mouths. Just sayin'.
5. Disposable hand towels – I couldn't believe my eyes when I first saw these
advertised. Neither could Mrs. Money of the Ultimate Money Blog: "The last thing
we need is another disposable product, especially one that is pretty much
useless and replaces something that has worked well for so many years." What she
said.
6. Disposable flossers – Bathrooms sure are full of, um, waste. Rolls of floss
go on sale all the time.
7. Name-brand OTC meds – Compare ingredient labels for any over-the-counter
medications you need; when in doubt, talk to the pharmacist. Tip: Know what
things cost since name-brand pills might be cheaper with a sale plus coupon
and/or rebate.
8. Sandwich bags – No need to buy and toss, buy and toss. Put your PBJs in a
reusable container.
9. Lunch bags – They're still for sale, but I don't know why. Get yourself a
reusable lunchbox or lunch bag. (I found mine in the free box at a yard sale.)
10. Ringtones – Your phone came with a ringer installed. Use it.
11. Diaper Genie – A mechanized trashcan just for nappies? Throw them in the
household garbage just as people did back in the dark ages.
12. DVDs – Be honest: How many of your DVDs have been watched more than once?
Now: Add up what you've spent on them. When your headache goes away, remember
you can probably get DVDs free from the public library.
14. Magazine subscriptions – Are you reading the ones you have? Then why keep
subscribing? Your favorites may be available for free at the library. (What
swell places libraries are.)
15. Pet costumes – Do I really have to explain?
16. Snuggies – First, put your bathrobe on backward. Next, congratulate yourself
on all the money you just saved.
http://money.ca.msn.com/savings-debt/donna-freedman/sixteen-things-you-dont-need
Posted Friday, July 13th, 2012.